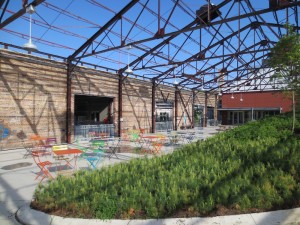 The Brewer's Backyard takes the concept of a beer garden to the next level.  The Brewer's Backyard gives you a chance to learn about, try and meet the people behind the best beer Ontario has to offer, in the casual and relaxed setting of historic Evergreen Brick Works. It's as if you were drinking right in the backyards of the top brewers in the province.
We've hosted over 20 events since we began in 2012, and our 2018 season kicks off on Family Day (February 19th), featuring Ontario's best craft breweries and some of Toronto's tastiest local food vendors. Events will be held in the idyllic and memorable Evergreen Brick Works. This means lots of beer, lots of food, lots of space for beer lovers and burgeoning connoisseurs alike. Brewer's Backyard events are all ages and suitable for families as we operate during the afternoon, and area always free admission.  Proceeds from our events are donated to Evergreen's very worthy cause.
If you are a brewer or a food vendor and would like to participate in the Brewer's Backyard, please e-mail us at info@brewersbackyard.com.
If you're looking for the Brewery Market, please go to its own site here!