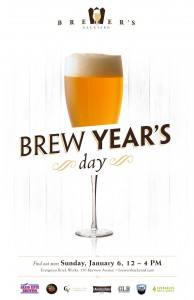 We're excited to announce that the Brewer's Backyard will be kicking off our 2013 season on Sunday, January 6th, 2013 with Brew Year's Day!
Like last year, Brew Year's Day is a special event where we celebrate our Canadian winter with exclusively strong, winter warmer-style beers.  It was possibly the first event of its kind in Ontario, and it continues to be a perfect way to keep us all warm as we enjoy this time of year!
This year, however, we're going to kick it up a notch from previous Brewer's Backyard events, with six breweries getting in on the fun – the most to date!  We're happy to be welcoming for the first time Nickel Brook Brewery and Grand River Brewing, along with Great Lakes Brewery, Amsterdam Brewery, Indie Alehouse, and Cheshire Valley Brewing returning to the Brewer's Backyard.
All of our brewers are bringing unique, rare and potent beers to Brew Year's Day and you can expect to try, on draught:
Amsterdam Full City Tempest Imperial Stout
Cheshire Valley Oak Aged Scottish Pale Ale
Grand River Russian Gun Imperial Stout
Great Lakes Apocalypse Later Double Black IPA and Witch King Baltic Porter (collaboration with Biergotter)
Indie Alehouse Christmas Spiced Porter and Jump the Shark American Strong Ale
Nickel Brook Old Kentucky Bastard Imperial Stout

What a delicious way to kick off the new year! But that's not all, we'll also have some delicious food to complement all these excellent beers.  We're happy to welcome Big E's Grinds who will be providing some delicious Hawaiian street food for the Brewer's Backyard.  Big E's been at the Toronto Underground Market in the past, and you can expect some delicious eats such as grilled shrimp, pineapple and pulled pork for Brew Year's Day.  Should be some great sunny snacks regardless of how cold it might be!
For this event only, we'll be in a slightly different location at the Brick Works.  So we don't have to stand outside all afternoon, we'll be serving in the Young Welcome Centre, an indoor space adjacent to our usual Koerner Gardens area.  But in the Koerner Gardens will be an outdoor skating rink, so you can complement a tasty beer with a fun outdoor skate (but no skating and drinking at the same time!)
So mark down Brew Year's Day on Sunday, January 6th from 12-4pm, and follow us @brewmarket and on Facebook for the latest info.  As usual, admission to Brew Year's Day is free (you can purchase tickets for beer and food at the event), is all-ages and proceeds support Evergreen.