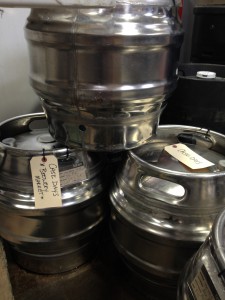 We are excited and looking forward to be a part of Cask Days this year, with a special Brewer's Backyard section dedicated exclusively to pumpkin and harvest style beers.  And what a lineup it will be!
The full beer lineup for Cask Days was announced today, with the following beers being in the Brewer's Backyard section:
Howe Sound "Pumpkineater" (Imperial Pumpkin Ale)
Half Pints "Punk 'N' Fest" (Pumpkin Ale)
Hopfenstark "Greg" (Harvest American Foreign Stout)
Railway City "Hoptoberfest" (Harvest Ale)
Benelux "Molsson 2012" (Harvest Saison)
Indie Ale House "Double Barrel Pumpkin Abbey" (Belgian Strong)
Niagara College "Boktoberfest" (Barrel Aged Bock)
Nickelbrook "Pie Eyed Pumpkin Ale" (Spiced Pumpkin Ale)
Brasserurs Illimtes "Magouille" (Scand'Ale With Pumpkin)
Grand River "Highballler" (Pumpkin Ale)
Church Key "Pumpkin Ale" (Pumpkin Ale)
Clocktower "Pumpkin" (Pumpkin Ale)
We look forward to seeing you there!  Tickets to Cask Days can be purchased online here.