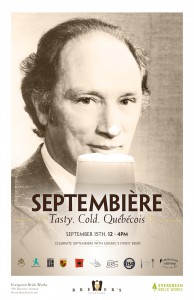 Our upcoming Brewer's Backyard, entitled Septembière, taking place on Sunday, September 15th during Toronto Beer Week will feature a stunning lineup of beers from our neighbours in Quebec, to include:
Le Trou Du Diable Imperator
Le Trou Du Diable Amere Indienne
Le Trou Du Diable Sang D'Encre
Dieu Du Ciel! Disco Soleil
Dieu Du Ciel! Penombre
Dieu Du Ciel! Rosee D'Hibiscus
Les Trois Mousquetaires Doppelbock
Les Trois Mousquetaires Porter Baltique
Dunham Belgian IPA
Dunham Session Pale Ale
Hopfenstark Saison Station 7
Hopfenfstark Saison Station 55
Charlevoix Blanche
Charlevoix Tripel
Charlevoix Dubbel
Le Trou Du Diable Saison Du Tracteur
Brasseurs Sans Gluten Pale Ale
Brasseurs Sans Gluten Blonde
Hopfenstark Blonde
Hopfenstark Blanche D'Lermitage
Dieu Du Ciel! Rigor Mortis
And that's not all – we'll also have some delicious food to accompany – Jamie Kennedy Kitchen will be serving up J.K Poutine and Chef Pascal Poilbout will be serving Organic Crepes.
Septembière will be taking place in The Pavilions area of the Evergreen Brick Works (not our usual Koerner Gardens, for this time only!) from 12-4pm on Sunday, September 15th.  Admission is free, and you can purchase beer and food at the event.  Proceeds from the event as always go to support Evergreen.