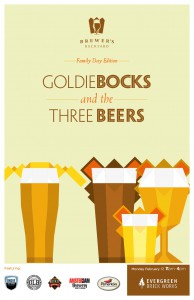 The Brewer's Backyard returns tomorrow on Family Day with a great event called Goldibocks and the Three Beers.  To that end, each of our breweries are bringing three beers each, and the lineup is fantastic.  You can look forward to trying the following tomorrow:
Indie Alehouse: Four Barrels Barley Wine, Belgian IPA and Breakfast Porter
Amsterdam: Spring Bock (aged version), Rebecca Black IPA and Boneshaker IPA
Nickel Brook: Extra Special Bitter, American Pale Ale and Maple Porter
Great Lakes: Crazy Canuck West Coast Pale Ale, Johnny Simcoe India Session Ale and Harry Porter & the Boubon Soaked Vanilla Bean
We'll also have paella and empanadas from Pimenton and a few different kinds of flavoured popcorn from Indie Alehouse.
Tomorrow's event was named by the Globe and Mail as one of five things to do this weekend, and it should be a great time.  We're on from 11am-4pm at the Young Welcome Centre of the Evergreen Brick Works, as part of a full-day of family friendly activities.  Admission is free and you can pay for beer and food at the event.
We hope to see you tomorrow!