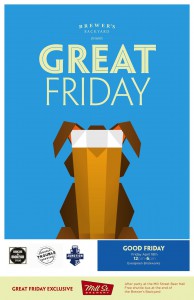 We always love having posters for the Brewer's Backyard.  And this time is no different, and we've got a fun one to commemorate our Great Friday event coming up on Friday from 12-6pm at the Evergreen Brick Works.  Check it out on the right.
We hope you can join us on Great Friday – this is an extra special one to kick off the long weekend in style.  We've got beers from Mill Street (Organic Lager, Tankhouse, 100th Meridian and Spring Thaw), Double Trouble (Hops & Fire), Cheshire Valley (Robust Porter) and Junction Craft (Brakeman's Session Ale + 3 more surprise brews).  And we've got delicious Santa Monica Tritip Sandwiches and Mac and Cheese from Bricks and Mortar.  And if that's not enough, we've got a special after-party at the Mill Street Beer Hall, where a free shuttle will take us there where we'll have an exclusive $10 and keep-the-stein promotion for us.
Great Friday will be taking place in Koerner Gardens of Evergreen Brick Works (weather looks nice!) from 12-6pm on Good Friday, April 18th.  Admission is free and the event is all-ages.  We hope to see you there!