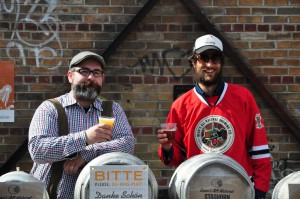 Our final Brewer's Backyard of the season will once again be an Oktoberfest-themed afternoon of beer and sausages entitled Torontoberfest on holiday Monday, October 14th.
Like last year, we're happy to welcome back Beau's All Natural Brewing and WVRST, who will be pouring delicious Oktoberfest beers and serving up scrumptious sausages and duck fat frites.  But we're also happy to be welcoming Black Oak Brewing into the fold, with their great seasonal Oktoberfest brew and some of their other selections.
Torontoberfest will take place in the Koerner Gardens and Holcim Gallery area of the Evergreen Brick Works from 12-4pm on Monday, October 14th.  Admission is free and you can buy beer and food at the event. As always our event proceeds help the great things that Evergreen does. We'll have more specific details as the day approaches, but in the meantime mark down the 14th to join us for our closing event for the year!  If you'd like to (but not necessary), you can RSVP at our Facebook event page for all the latest details!